Two people have died after a fire at the Cameron House Hotel beside Loch Lomond.More than 200 guests were evacuated from the hotel after the alarm was raised at round 6.40am.Police said one person was pronounced dead at the scene while another person died after being taken to the Royal Alexandra Hospital in Paisley.
Three other people, including a child, were taken to Glasgow's Queen Elizabeth University Hospital for treatment.Police Scotland said the hotel, near Balloch, had been extensively damaged.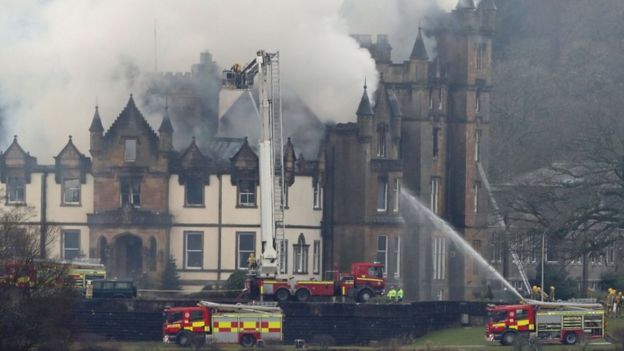 A number of guests were treated at the scene for smoke inhalation. A Police Scotland spokeswoman said: "Around 6:50am, police were called to a report of a fire at the hotel. More than 200 guests were evacuated from the building, which has been extensively damaged". Officers remain at the scene and are working with other emergency services to establish the exact circumstances of the incident. She added that a report would be submitted to the procurator fiscal.
One guest told BBC Radio Scotland how she initially thought the fire alarm was a drill. Ainsley Huxham said: "As soon as we left our room I just thought it was a fire alarm, just like a practise go. But when we left – five stairs down from our room – we saw a whole room full of smoke and flames. So we had to run back down the hall, chapped on everyone's doors and shouted 'fire!'." She added: "We got out within five minutes of the fire brigade getting called."By the time we had got outside, the whole field was full of people." Staff who turned up for their shifts at the hotel during the morning were being stopped at the entrance. 
One woman who works in the kitchen told the BBC news website she just heard about the fire as she was getting ready for work. She said she didn't believe the news until she came down and saw the smoke. "It's a really lovely hotel," she said. "I'm so sorry to see this." Stewart King, general manager of the neighbouring Duck Bay Marina, said he had been down to the hotel this morning and was shocked by the extent of the damage. "It was very bad," he said.
Guests are being sheltered in Cameron House's Boathouse restaurant while the situation is ongoing. The Scottish Fire and Rescue Service said it had deployed 12 appliances to the scene. A spokeswoman said firefighters had been searching the building while fighting the fire using powerful water jets. Cameron House is one of Scotland's most luxurious hotels, with views across Loch Lomond. The venue offers a romantic location for weddings, a championship standard course for golfers and five-star facilities for guests.
The chef Martin Wishart has a Michelin-starred restaurant at the hotel. Cameron House is owned by US investment firm KSL Capital Partners, which was reported to have paid between £70 million and £80m for the 132-room property in 2015. A statement on the hotel's website read: "Due to an ongoing incident please be aware that Cameron House will remain closed to arriving guests for at least the next 48 hours. "We would ask all guests and customers to remain patient as we work with the emergency services to establish the extent of the damage and ascertain when we will be able to re-open. "More information will follow in due course."
---